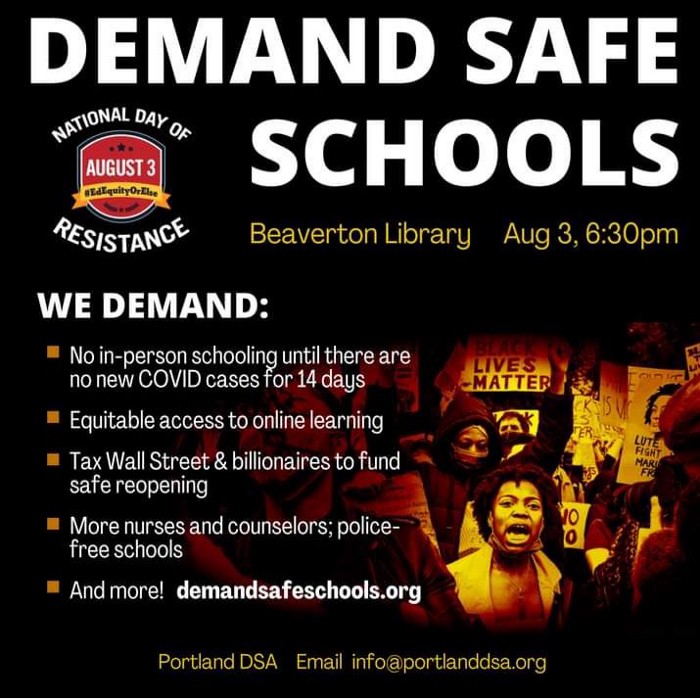 [Beaverton, OR, August 3, 2020] Portland DSA will demonstrate alongside students, parents, educators, and union members across the country on August 3rd, 2020, demanding a safe, scientific, racially just and publicly-funded approach to supporting our schools and the communities that rely on them during COVID-19.
The COVID-19 pandemic, the resulting economic plunge, and the violent policing of the uprisings for Black liberation have once again laid bare the brutality of capitalism. Tens of millions of Americans face mass hardship if Congress chooses not to extend the $600 per week additional unemployment benefits that are set to expire this week. Our city and federal governments have engaged in fascistic suppression of the rebellion against police brutality and have begun using the pandemic as an opportunity to sabotage and privatize our public institutions, from the postal service to our schools. As in all such power-grabs of the investor class, it is Black, Indigenous, and POC communities who face the worst of the violence and dehumanization that fuel exploitation on such a grand scale.
While the federal government has left students, the unemployed, and the working class to flounder in precarity, Governor Kate Brown is also failing to meet the moment. Rather than fighting for economic justice by supporting our most vulnerable residents, she declared on July 31st that she is calling a special session on August 10th to "tighten belts in state government" in order to meet budget deficits. We reject this outdated model of perpetual cuts and scarcity and instead demand the Governorincrease investment to fund education, addiction and social services, housing, and state jobs. We know that student welfare is community welfare, and budget cuts in these areas hurt students, their families, and their communities.
As a chapter, we uplift the demands of Oregon for a Safe Return to Campus, Oregon Public Employees United and Demand Safety in Our Schools and commit to working to make them our reality. We demand:
Equitable access to online learning, including free, universal public broadband
A moratorium on evictions and foreclosures to support our communities and families
Direct cash assistance to those not able to work or who are unemployed, and other critical social supports
Adequate and equitable funding, through federal stimulus
Moratorium on new charter or voucher programs and standardized testing
No reopening until the scientific data supports it (In Oregon, no in-person schooling until there are no new cases in the county and surrounding counties for 14 days)
No cuts to state jobs, social services, or education, instead increasing investment in these vital resources
When reopening: Safe conditions including lower class sizes, PPE, cleaning, testing, and other key protocols; Police-free schools; adequate numbers of counselors and nurses and community/parent outreach workers
Join us on Monday, August 3rd at 6:30 pm at the Beaverton Library to say NO to austerity! #TaxtheRich #NoORAusterity #FundSchoolsFundHomes