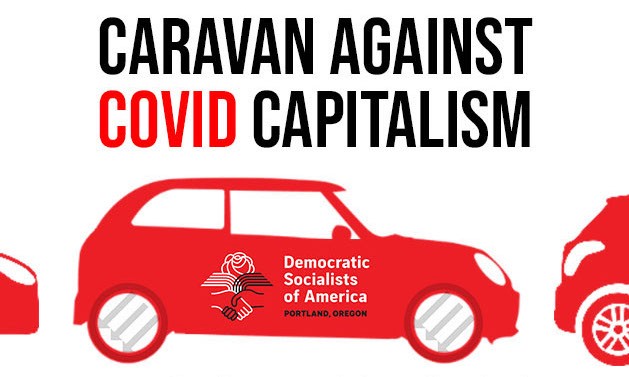 The Portland chapter of the Democratic Socialists of America is leading a Caravan Against COVID Capitalism this Friday from 4 to 6PM, during which we will visit dozens of neighborhoods throughout the city of Portland via car. We invite the city to bang on pots and pans in a cacerolazo from their homes in support! We are calling on Mayor Ted Wheeler and Oregon Governor Kate Brown to enact a Workers' Bailout:
1. Cancel all rent and mortgage payments without future backpay
2. Cancel all utility payments without future backpay
3. End all displacement and sweeps of houseless camps
4. Open additional shelters throughout the city of Portland and the state of Oregon
5. Release all prisoners, including ICE detainees
6. Implement compulsory paid leave for all and hazard pay for essential workers
Socialists know that the massive systemic collapse occuring around the world is not unprecedented. This is the result of a system designed to extract value from laborers — and when those laborers can't go to work, the entire fragile ecosystem of capitalism begins to crumble. And for the leaders of our nation and our state, it is business as usual: they will pay lip service to working people while bailing out big business and leaving the rest of us behind. We are the ones who do the work! We are the ones who need protection! It's time to organize for our rights!
With many Portland residents stuck at home with no work and rent due, the pressure is mounting, and it may feel impossible to make our voices heard in this time of severe isolation — but it is possible when we are united.
We will visit the neighborhoods of Irvington, Eliot, Pearl, Downtown, Buckman, Ladd's Addition, Mt. Tabor, Montavilla, Powellhurst-Gilbert, Hazelwood, Russell, Parkrose, Sumner, Cully, Vernon, Boise, and many in-between.
If you can't join the caravan, participate in a city-wide cacerolazo. This is the practice of banging pots and pans outside the windows of your home or on your porch in protest. It originated in South America and is currently being used in Brazil to protest against the far-right policies of President Jair Bolsonaro. Across the world, we may be cooped up at home, but we can still be in solidarity with workers everywhere.
The caravan will meet at 3:30PM at the parking lot at 1100 NE Weidler St. We will decorate our cars while maintaining social distance and begin the caravan at 4PM.
More info: http://bit.ly/NoCovidCapitalism