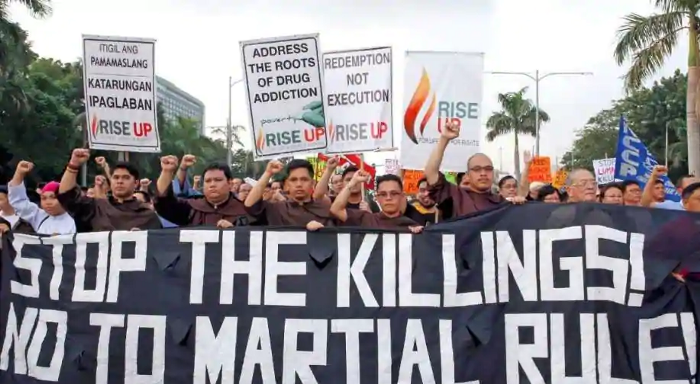 DSA National Political Committee Statement, December 2019:
"Democratic Socialists of America calls on the U.S. government to immediately cease all funding and related support to the Duterte administration and the Philippine military and police…Finally, DSA calls on its members to support peaceful resistance to the Duterte administration, through their local chapters and in solidarity with Filipino and Filipina comrades living in the U.S. and the Philippines."
Philippine Human Rights Act summary, Spring 2020:
"To suspend United States aid to the Philippine military and police until such time that an audit finds that no U.S. funds or equipment have been used to kill or commit human rights violations."
The Legislative struggle against the role of US imperialism in the Philippines under Duterte has brought forward a strong and winnable bill.
The campaign for the PHRA comes from the convergence of two factors. Duterte's actions are flagrant and have attracted condemnation from around the world. The opposition to him is strong and growing; Duterte is the number one recruiter for the movements for genuine independence, democracy, just peace, and socialism in the Philippines that long predate his presidency. It's these movements of workers, peasants, youth, indigenous peoples, and professionals that persevere through multiple martial law declarations and oust dictators.
The worsening conditions in the Philippines right now make our solidarity urgent:
Duterte's shutdown of Philippines' largest news network ABS-CBN, leaving thousands of people laid off and millions of Filipino Americans without a reliable news source.
The "Mass arresting, not mass testing" response of Duterte to COVID-19.
The Anti Terror Law which encapsulates Duterte's escalating threats to formally declare nationwide martial law and become an open dictator like his idol Marcos.
To reaffirm our solidarity with the Filipino people against Duterte. We stand with them against his fascism, and his McCarthyist red-tagging designed to put down the opposition and people. Therefore, as DSA Portland we:
Become an official endorser for the PHRA, convened by Malaya Movement, Kabataan Alliance, and ICHRP, by donating $100 and joining local lobbying efforts, as our organizational capacity allows.
Locally, there is a committee working on two main tasks — building relationships with the offices of legislators, and building the coalition as a mass movement. Becoming an official endorser of this campaign would allow DSA to join, influence and strengthen this work.
Call for other DSA chapters, the International Committee, and the DSA NPC to also endorse and join in the work of passing the PHRA.
Call directly on legislative representatives to introduce and/or cosponsor the PHRA. We have influence over people like AOC, Sander, Omar, etc., and we want them to take leadership on this important issue.
Reference: Organizers have created a toolkit of resources to help with organizing around the Philippine Human Rights Act & the campaign to Stop Arms Sales to Duterte. The toolkit includes campaign endorsement request letter, campaign memo, and a "1 pager" on the PHRA.